| Updated on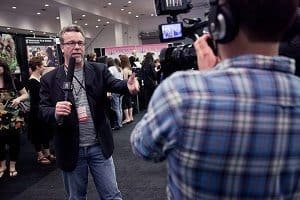 There are many ways to come face-to-face with the highly-coveted industry media covering trade show where your company or your client's company may be exhibiting both before and during a show. Some events are offered by show producers while some are coordinated and hosted by the exhibitors themselves.
Either way, they almost always come at an additional expense. However, receiving coverage of your trade show participation is the quintessential validation of your exhibiting investment as well as the ultimate return of any public relations efforts. Some "networking" and media events, such as meet-and-greets, are more traditionally offered widespread at the majority of shows while some more exclusive functions take place less often, generally offered at the higher-budget exhibitions.
An alternative to exhibitor-hosted, media-only events are media-friendly ones where the guest list is predominantly media but sometimes also includes other show contacts, show partners, show vendors and the like. Invitations to these types of affairs are often extended as gestures of gratitude or "good will" to friends and associates in the industry. If you are an exhibitor or representing an exhibitor, when compiling a media-friendly guest list think of your affair as the rehearsal dinner to a wedding where only the closest family and friends are included in the kick-off to the festivities.
Show-Produced Media Events
A show-produced, media-only or media-friendly event is generally one where show promoters are "selling" the opportunity for exhibitors to get more face time with the media. One such event is a Preview. A Preview is typically scheduled anywhere from two-to-three days to two-to-three months prior to and sometimes in a different destination than the actual show. This is when exhibitors have the opportunity to purchase table-top space or presentation/speaking time affording them the opportunity to release information about products and services they'll be exhibiting at the upcoming show. This is all in an effort to create a media buzz prior to the show. Important to remember that exhibitors aren't the only ones competing for attention at trade shows; trade media is also always competing amongst themselves for the biggest breaking story about the biggest product being unveiled or the best information being released that season. Previews give the media that glimpse into who may be making the biggest splash at that year's trade exhibition.
Since these types of events are more exclusive because there are additional costs involved for the exhibitor, they are always smaller, more intimate affairs providing more media face time than at the actual trade show itself.
To find out about such events, which are often considered a sponsorship at some level since there are additional monies involved, visit the show's website or directly contact the show producer. Keep in mind that, as with anything else, there will be a registration deadline for these functions.
Exhibitor-Hosted Media Events
Other media-only events are hosted by actual exhibitors. Exhibitors at the helm of such gatherings generally have a healthy trade show budget and these events can fall under trade show networking or the PR category of an event budget.
Media-only events can be as simple as a reception where hors d'oeuvres are served and an exhibitor presentation is made.
While, depending on the scale of your event, these events can be quite costly, they often end up paying for themselves in priceless PR and media coverage. On the more economical side, media-only events can be as simple as a reception where hors d'oeuvres are served and an exhibitor presentation is made. Gift bags filled with catchy company promotional items, product information and literature are commonplace. These events serve as the ultimate plugging platform, as is their primary purpose. The media is there to hear you promote your company's or client's products and services while they enjoy a cocktail or two and the obligatory and highly-anticipated pigs in a blanket.
For exhibitors with larger budgets, there's no end to the type of media-only events that can be held. Fancy restaurants, country clubs, amusement parks, nightclubs or even the ultimate tourist attractions, such as Alcatraz Prison outside of San Francisco, California or Islands of Adventure near Orlando, Florida, have been known to serve as venues for media-only functions hosted by trade show exhibitors. Fine wine, open bars and more elaborate or creative fare are often on the menu of these functions, which are more like media-only extravaganzas than events.
Grab Attention, Stay on Course
Whether serving a five-course meal or hosting a round of golf on a luxury course, the main thing to always remember is to stay the course. Always keep in mind that the main objective of such events is to grab the attention of the media in an effort to receive exposure and coverage. Be certain to use these events as a way to get out the message of whatever product or service you're promoting or unveiling at that year's trade show exhibition. Hold a 30-minute presentation with a Q&A or interactive demonstration amidst the festivities. You want your media guests to have fun but to fundamentally be aware of why they are there. Of course, it's not an automatic quid pro quo of fun and food for a front-page feature, but it's understood that they're there to be educated and, yes, hopefully, wowed by the information you are there to share.
PR Preparation
At the conclusion of many of these events, it's likely there will be a call for certain materials. Be sure your company's PR or media rep is prepared to promptly turn around art work, press release(s), company literature or a quote upon request, increasing your chances of free publicity and media exposure.
Photo courtesy of Vancouver Film School